THE BEST CAMP PENDLETON ELECTRICIAN FOR YOUR ELECTRICAL NEEDS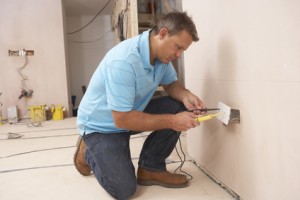 When you are working the electrical wiring or any part of the electrical system in your home, it is extremely important that the job is done right. You can spend a fortune trying to repair your electrical problems alone, and it may never function correctly. The only way to save money, time and effort is to have a professional Camp Pendleton electrician with years of experience to help you with your electrical issues.
Premo Electric is a professional Camp Pendleton electrician that provides customers with high quality residential and commercial electrical services. Some of our electrical services include electrical repairs, GFCI electrical outlets, lighting, panel upgrades, knob & tube wiring, electrical safety inspections, aluminum wiring replacement and new construction wiring for commercial businesses.
Our highly-sought after electrical services help add beauty, convenience and value to your home. Our professionals take the time to explain what needs to be done, and we recommend you next course of action.  You can depend on our professionals for superior electrical services that will exceed all of your expectations.
Camp Pendleton Electrical Contractor
When you are searching for a professional electrical contractor, you can rely on Premo Electric to get your electrical services done quickly, safely and in the proper manner.
It is our mission as a professional, family-owned and operated electrical company to build lifelong relationships with all of our clients. Our company does this by earning our customer's trust through providing them with continuous high quality repairs and customer service. We make sure that we keep a keep work environment and threat your home or business with the respect you deserve.
Camp Pendleton Wire Repairs
If you have owned your home for more than 20 or 30 years, chances are that you have old electrical wiring in your home. This time of wiring was great when your home was first built, but nowadays it struggles to keep up with your demand for electricity, which can result in electrical outages and possible house fires.
Premo Electric is a professional San Diego Electrician that provides electrical wiring repairs, electrical wiring replacements and electrical wiring inspections. If you think you might have a problem with your electrical wiring, our professional electrician can inspect the wiring in your home for any signs of problems or potential issues.  If we find any, we have the tools and training necessary to provide you with quick and affordable repairs.
We also specialize in the installation of electrical wiring in commercial new constructions. If your business is relocating to a newly built building, you are going to need a professional electrician to handle your commercial electrical wiring installations. Premo Electric is the perfect company for all your commercial electrical needs.
Recent Articles
3 Common Questions About San Diego Landscape Lighting

You work hard, and you work all the time, to make sure that your yard and landscape look as good as possible. So why let that perfect landscape disappear every single night at sunset? San Diego landscape lighting can make sure that your yard and landscape doesn't disappear at night, and that they look even better....

Read More
If you are looking for a Camp Pendleton Electrician then please call 619-908-1286 or complete our online request form.