CARDIFF BY THE SEA ELECTRICIAN – PREMO ELECTRIC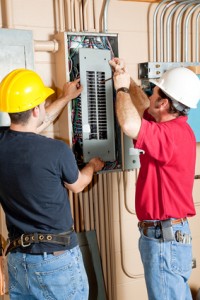 Just about everything that you during your daily routine requires some type of electricity. Without your electricity, going about your day would be impossible. When you are searching for the assistances of a professional residential or commercial electrical company, there is only one company for the job.
Premo Electric is a professional Cardiff by the Sea electrician that provides a variety of electrical services for both homeowners and business owners in our area. Our electricians are trained and experienced in electrical work, and they have the ability to handle of your electrical issues in a professional and safe manner.
We are licensed and insured company that believes in combining their years of experience with the need to provide superior customer service. We want to be your one-stop electrical contractor for all of your electrical problems. Our employees have several eyras of school and year of experience in the electrical industry. There is not an electrical issue too big or too small for the professionals.
Cardiff by the Sea Electrical Contractor
We have been providing our customers with superior services that they are more than happy to recommend to their friends. We stand behind all of our services. We guarantee that our electrical services will exceed your expectations.
As a highly qualified San Diego Electrician, we are providing electrical services that include electrical repairs, electrical installations, electrical wiring services and more. When it comes to electrical repairs, you should not allow anyone other than a trained electrical attempt these repairs. The results could be disastrous to you and your home.  When you are having trouble with an outlet or installing a giant light fixture in your home, the professional at Premo Electric are more than happy to help.
You can depend on the electricians at Point Loma Electric to use on the best quality of materials, and we never take short cuts that would compromise your safety and the quality of our workmanship. Premo Electric uses a flat rate, up front pricing system that guarantees your 100% satisfaction with all of our services.
Cardiff by the Sea Wire Repairs
Our professional Cardiff by the Sea electricians can make sure that your electrical job is done properly, no matter what type of wiring service you need. Whether you are building a new commercial building, or you adding a new room onto your home, or you need to replace the existing wiring in your home, our professionals can help.
If your home is more than 20 to 30 years old, chances are the wiring needs to be updated. Today's homes require much more electricity than they used to, and leaving old wiring that's not up to new standards in your home can be a major hazard.
Our Cardiff by the Sea electricians can give your home a complete electrical inspection and let you know whether your wiring is currently up to the standards and the best way for you to move forward.
Recent Articles
San Diego Electrical Repairs: Why They're Not a DIY Project

DIY movement is rapidly growing, and it's easy to see why. DIY projects are satisfying, fun, and you'll see home improvements get done without having to pay for a contractor. But some projects should always be left to professionals. Your San Diego electrical repairs are important to you and your family, and they can feel...

Read More
If you are looking for a Camp Pendelton Electrician then please call 619-908-1286 or complete our online request form.