CEILING FAN REPAIR SERVICE BY PREMO ELECTRIC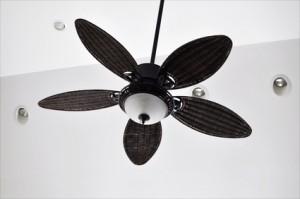 Many times we move into a home and are thrilled to have ceiling fans. But soon afterward we realize that the darn thing makes a horrible noise and swings around like a monkey is hanging off of it.  Instead of giving up on your ceiling fan, call us to come out and take a look at it. It may be possible that the unit can be repaired for less than it would cost to replace it entirely.
Some of the old-style ceiling fans are coming around again to be in-style as "retro-chic".
Some of the ways ceiling fans are renovated are by giving them an antique yet fresh look, or if there is a lighting fixture they are replacing the shades on the light fixtures with cool retro designs or vibrant colors. Just look around the internet for your inspiration and you'll see what we mean.
Many homeowners are thrilled with the design function of the older units and the fact that parts were simply better built some 50 to 75 years ago.
Today, many parts are made of plastic instead of steel and are actually manufactured to break down after a few months.
So repurposing that old chandelier ceiling fan could be a really cool idea for your home. But first, you will need to have the thing repaired!
At Premo Electric, we are experts at ceiling fan repair.  Just give us a call and we will come take care of you. We offer a huge variety of other services, be sure to check them out on our website and take a look at our customer reviews.
Professional Residential & Commercial Electric Service in California
Electrical Repairs
Ceiling Fan Repairs
Lighting Repairs
Outlet Repairs
GFCI Electrical Outlets
Troubleshooting
Ceiling Fans
Lighting
LED Recessed Lighting
Lighting Installation
Landscape Lighting
Security Lighting
Low Voltage Lighting
Pool Lighting
Panel Upgrades
Car Chargers
TV Wall Mount
Knob & Tube Wiring
Electrical Safety Inspections
Aluminum Wiring Replacement
Jacuzzi & Spa
If you are looking for a Professional Electrician you can trust, call 619-908-1286 or fill out our online request form.
Read Andrew R.'s review of Premo Electric on Yelp
Read Brian L.'s review of Premo Electric on Yelp