ELECTRIC PANEL REPAIR SERVICE BY PREMO ELECTRIC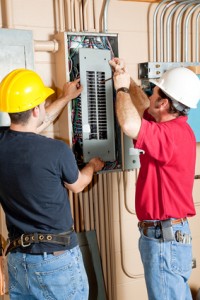 An older home will most likely need a panel upgrade before someone risks living in the home. Houses are sold and bought every day where the new owner should be required to upgrade the wiring in the home prior to moving in, but sadly that is not the case.
Many fires are started by electrical panels and wiring that is forced to take a much heavier than it could ever possibly provide.
Homes and businesses of today have different needs than they did years ago. In modern new home construction, wiring installation for entertainment or home computerized devices is commonly included in the plan. But older homes need to be upgraded.
Don't risk the possibility that your home could burst into flames at some point in time that you will never be able to predict, or worse when you or your loved ones are home asleep.
If you know you are pulling much more load than you should, get an electrician over right away to give you a bid on upgrading. It is simply not worth any amount of money to wait.
Professional Residential & Commercial Electric Service in California
Electrical Repairs
Ceiling Fan Repairs
GFCI Electrical Outlets
Troubleshooting
Ceiling Fans
Lighting
Lighting Installation
Landscape Lighting
Security Lighting
Low Voltage Lighting
Panel Upgrades
Car Chargers
Knob & Tube Wiring
Electrical Safety Inspections
Aluminum Wiring Replacement
We excel beyond our competition because we are experienced and trained for any electrical systems need and provide our customers with upfront, honest estimates of only the work that needs to be done. If something needs a simple repair, we don't try to tell you otherwise just to make money.
Whether it is indoor or outdoor installation or repair, Premo Electric is ready to build an ongoing relationship with you. Our experienced electricians are fully licensed, insured, and bonded.