Oceanside Electricians You Can Count On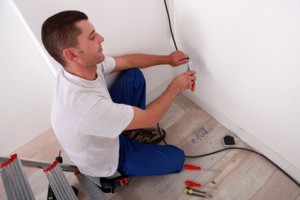 There's no arguing with the fact that your electrical system is one of the most vital parts of your home. It's difficult to think of a single task you perform in your daily life that doesn't require electricity in some way. And it's such a big part of our lives that when it's working fine, it can be easy to take it for granted. But once you have problems with your electricity, it can cause your life to quickly lose traction. Our San Diego Electricians know how important your electrical system is to you, your family, and your home, so when it has any problems, we'll be ready to take of them quickly and professionally. We offer same-day service for when your problems can't wait, and we also have 24/7 emergency services available.
At Premo Electric, our Oceanside electricians are all licensed and insured, professionally trained, and highly experienced. So at every job we take, we guarantee superior service and the most professional workmanship available. Whether you need a small repair, a new installation, or any other electrical service at all, our experts will be able to professionally handle the job. Our knowledge of electrical systems is extremely vast, so we'll be able to handle any job you need.
Call us today with any questions you have about our services, or to schedule your appointment, and we'll be looking forward to working with you.
Oceanside Electrical Contractor
Keep in mind that you should never attempt to repair any electrical problems on your own. Without professional training, it's highly likely that you'll injure yourself or someone else during the repairs. And if you do make it through the repairs unscathed, there's still a very high chance that something wasn't done properly, which can mean there's a huge hazard waiting for you. Faulty wiring, in fact, is the leading cause of house fires in the US, according to the National Fire Protection Agency. Our Oceanside electricians will be certain that your electrical system isn't just repaired accurately and quickly, but also that it's as safe as possible.
Oceanside Wire Repairs
Whether you need wiring done for a new construction or you have a home or other building that needs to be rewired, our Oceanside electricians can give you the highest quality wiring job available. If you live in an older house, your wiring almost certainly needs to be replaced. Even if your home was built as recently as the 1980s, chances are that the wiring isn't up to modern standards. It may not be able to handle the amount of electricity modern homes use, which can cause problems with your electrical system, and can also be very dangerous. We can give your home a safety inspection and make certain that all of your wiring is up to local and national codes and standards. If you're building a new construction, our Oceanside electricians can make sure the wiring is perfectly installed.
What Oceanside Homeowners Are Saying About Us
Premo Electric is Rated: 5 / 5
based on these 3 happy customer reviews.
---
"Great service from George. I called in the morning for a non emergency electrical service, and was surprised that he can come in the afternoon to our home in Oceanside. Very professional and provided great information throughout the process; including suggestions on certain upgrades. He was honest and also let me know that some of his upgrade and troubleshoot suggestions were also easy enough for me to do vice paying him to do it. He is quick, clean, and professional. After talking to him, I have learned that he was an electrical inspector contractor in Afghanistan for over two years. I have served in Afghanistan multiple times, and through our discussions, he knew what he was talking about in terms of bases in theater. He supports those who serve since he provides Military discounts. I will call him again for future service, and I would recommend him to others."
---
"George has done multiple jobs at our house. He is dependable and his work is reliable."
---
Recent Articles
Is Knob and Tube Wiring Safe?

Knob and tube wiring was once a very popular form of electrical wiring, but it has since been recognized as a form of wiring that poses a risk to homeowners. If you have knob and tube wiring in your home, it's possible that all or part of your home's wiring will need to be replaced...

Read More
Lighting and electrical safety

Sufficient lighting in your home isn't just for convenience sake but also to serve you when you need to see well when doing tasks like cutting up food or making repairs in your garage. Most homes that are standard built will have only one lightbulb fixture in the garage, and kitchens normally have an overhead...

Read More
If you are looking for a Oceanside Electrician then please call 619-908-1286 or complete our online request form.