LAKESIDE, CA PROFESSIONAL ELECTRICIAN SERVICES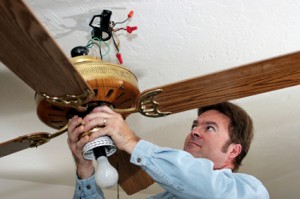 In 1886, 6,600 acres of land surrounding Lindo Lake were bought by a land company. The area is now known as Lakeside.
The town has always been regarded as a typical rodeo or cowboy town. The area was abundant with horses and ranches and includes an 8 acre rodeo facility, the Lakeside Rodeo Grounds.
Lakeside is a growing U.S. City that is located in San Diego County which lies along the west coast. The area has seen much growth throughout the years and plenty of new construction is still going on in our area.
Today's homes have many specialty systems installed in their homes. The electrical needs today are incomparable to what they used to be. Lights, heating and cooling, food storage and preparation, and a few outlets to plug in some home equipment were all that was needed long ago.
Now, the electrical considerations such as alternate power sources, backup power systems, and entertainment systems are just a few to name of the more necessary electrical devices needed in the home.
Premo Electric believes in customer service as our number one priority. We excel beyond our competition because we are experienced and trained for any electrical systems need.
Residential Electrician Services in Lakeside, CA
We are your Lakeside electrical systems installation pro's in San Diego and surrounding areas. Many homes here have been upgraded but still many homes need upgrading to support growing electrical demands.
We are specialists in wiring upgrades as well as installing new systems. We also provide the following services and more…
Electrical Repairs
GFCI Electrical Outlets
Residential or Commercial Lighting
Knob & Tube Wiring
Panel Upgrades & Repair
Ceiling Fan Repair
Home Electrical Upgrades and Improvements
Safety Wiring and Lighting Applications
Special Lighting
Energy Savings
Phone and Cable Installations
Exhaust Fan Installations
Electrical Inspections
Property Maintenance Electrical Services
Whether you have a residential or commercial property and need indoor or outdoor installation or repair, our San Diego Electricians are ready to serve you with top notch electrical services. We hope to build a relationship of trust with you. We are fully licensed, insured, and bonded so you don't have to worry.
Lakeside Professional Electricians You Can Trust
Most new construction projects are financed and timing is very important for the project to be funded. When an electrician doesn't show up to work the entire project can be delayed and it will cost you money. Unfortunately, many homeowners are damaged by nonprofessionals that try to take advantage of them.
This scenario can put a huge strain on your budget. If you find yourself in this situation, don't wait to call a professional who can get the job done for you on time and on budget -and get it done to your complete satisfaction.
Call us at Premo Electric. We'll be happy to sit down and discuss your needs with you. We can assure you that our team is standing by to assist you in all of your home or business electrical needs.
Recent Articles
San Diego Electrician Experiences with Handy Homeowners

Expert San Diego Electrician corrects many electrical fire & shock hazards created by unqualified home owners trying to do the work themselves. Be safe and hire a qualified San Diego Electrician. As a San Diego electrician customers are always calling me after something they were working on had gone bad, or they saw sparks fly...

Read More
What Causes a San Diego Circuit Breaker to Trip?

Going outside, to the garage, or down into the basement to mess with your tripped circuit breaker can start to become frustrating when it keeps happening again and again. So why does it keep happening? A San Diego circuit breaker "trips"–or shuts off the electrical flow—to keep the circuit from overheating and causing significant damage....

Read More
If you are looking for a Professional Electrician you can trust, then please call 619-908-1286 or complete our online request form.