LEMON GROVE, CA PROFESSIONAL ELECTRICIAN SERVICES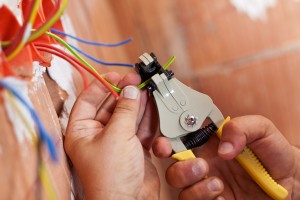 Lemon Grove is a city in San Diego County, California. The population was 25,320 at the 2010 census, up from 24,918 as of the 2000 census.
The sign that marks the border and entrance to Lemon Grove speaks for itself! It is of a large, yellow lemon with the city name lettered on. The sign is very hard to miss ! The lemon has been the city's symbol since 1963.
Lemon Grove boasts the motto: Best Climate on Earth, and indeed we enjoy many a beautiful day here in the San Diego area of North America.
Lemon Grove has developed greatly over the years, with plenty of people settling into the area. It is still a growing U.S. City that is located in San Diego County. The area lies along the west coast.
With new construction or old construction in the area, many homes are in need of electrical repair or upgrades.
Homes and businesses in Lemon Grove that are older were built with less demand for electricity, but today we need much more in the way of outlets and electrical systems needs such as backup power systems, large appliances, and all the extra gadgets and things we didn't have available years ago.
Years ago, all people needed were lights, heating and cooling, food storage and preparation, and a few outlets to plug in some home equipment. Not so today.
Electrical services you may need include:
Energy Management
Automation Systems
Security Systems
Internet Access Systems
Audio Systems
Video Systems
Home Theater Systems
Gaming Systems
Lighting
Power Points (outlets)
Large Specialty Appliances
Specialty Exhaust Fans
Backup Power Systems
Solar or Wind Power Generators
Now, the electrical considerations such as alternate power sources, backup power systems, and entertainment systems are just a few to name of the more necessary electrical devices needed in the home.
Premo Electric believes in customer service as our number one priority. We excel beyond our competition because we are experienced and trained for any electrical systems need.
Residential Electrician Services in Lemon Grove, CA
With Premo Electric, you have access to some of the best electricians in San Diego can provide. Our experts are well versed at any and all electrical applications needed by commercial or residential clients.
We are specialists with wiring upgrades and/or installing new systems. We provide the following services and more…
Electrical Repairs
GFCI Electrical Outlets
Residential or Commercial Lighting
Knob & Tube Wiring
Panel Upgrades & Repair
Ceiling Fan Repair
Home Electrical Upgrades and Improvements
Safety Wiring and Lighting Applications
Special Lighting
Energy Savings
Phone and Cable Installations
Exhaust Fan Installations
Electrical Inspections
Property Maintenance Electrical Services
Whatever you need, whether it's residential, commercial, indoor or outdoors, Premo Electric is ready to serve you with top notch electrical services. We hope to build a relationship of trust with you. We are fully licensed, insured, and bonded so you don't have to worry.
Lemon Grove Professional Electricians You Can Trust
Unfortunately, many homeowners are taken advantage of by nonprofessionals who claim to be trustworthy but aren't. If you have hired an Lemon Grove electrician in the past but the experience left you wanting, you may have concerns about hiring someone again.
Most new construction projects are financed and timing is very important for the project to be funded. When an electrician doesn't show up to work the entire project can be delayed and it will cost you money.
We understand at Premo Electric how important it is to complete your project on time as well as on budget. We also know that you want quality, first class results.
You don't need to have to worry about your project. A professional should do everything possible to ensure customer satisfaction. You are our number one priority and if you aren't happy, we aren't happy. Let us help you with your project and you'll be glad you trusted enough to give someone else a chance.
We'd love to sit down and discuss your electrical needs with you. We are standing by to serve you, whether you need new installation , aluminum wire replacement, or repair, our we are here to give you the quality you expect and deserve.
Recent Articles
Lighting and electrical safety

Sufficient lighting in your home isn't just for convenience sake but also to serve you when you need to see well when doing tasks like cutting up food or making repairs in your garage. Most homes that are standard built will have only one lightbulb fixture in the garage, and kitchens normally have an overhead...

Read More
If you are looking for a Professional Electrician you can trust, then please call 619-908-1286 or complete our online request form.