El Cajon's Top Electricians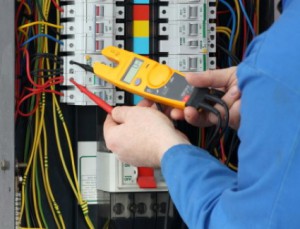 There's no arguing that your electrical system is one of the most important parts of your home. It can be tough to think of something you do on a daily basis that doesn't require electricity in one way or another. And it's such a big part of our lives that when it's running fine, it's easy to take for granted. But when your electrical system starts to have problems, it can cause your life to come to a screeching halt. Our El Cajon electricians understand that your electrical system is too important a part of your life for you to go without for long, so we'll be ready to tackle any job as quickly and professionally as possible. We offer same-day service for when your problems can't wait, and we also have 24/7 emergency services available. We'll never leave you waiting.
Our San Diego Electricians are all licensed, certified, and professionally trained. So at every job we take, we can confidently guarantee superior service and the most professional workmanship available. Whether you need a small repair, a new installation, or any other electrical service at all, our experts will be able to professionally handle the job. We have a vast knowledge of electrical systems and electrical appliances, so no matter what services you need, we'll be able to handle them.
Call us today with any questions you have about your electrical system or our services, or to schedule your appointment, and we'll be looking forward to working with you.
El Cajon Electrical Contractor
Remember: you should never attempt to repair any electrical problems on your own. If you don't have up-to-date professional training and experience, you're most likely going to injure yourself or someone else during the process. And if you do make it through the repairs unscathed, there's still a very high chance that something wasn't done properly and is now a huge hazard waiting for you inside your home. According to the Nation Fire Protection Agency, faulty electrical wiring is the number one cause of house fires in the US. Our El Cajon electricians will be certain that your electrical system isn't just repaired accurately and quickly, but also that it's as safe as possible.
El Cajon Wire Repairs
Whether you need wiring done for a new construction or you have a home or other building that needs to be rewired, our El Cajon electricians can give you a top-notch wiring job. If your home is relatively old, you'll most likely need to have the wiring replaced if it hasn't been done recently. Even if your home was built during the 1980s, chances are that the wiring isn't up to modern standards. It may not be able to handle the amount of electricity that is used in today's homes, which won't just cause problems with your electrical problems, but can easily be a major danger. We can give your home a safety inspection and make certain that all of your wiring is up to local and national codes and standards. And if you're building a new construction, our El Cajon electricians can make sure your wiring is perfectly installed.
What El Cajon Homeowners Are Saying About Us
Premo Electric is Rated: 5 / 5
based on these 3 happy customer reviews.
---
"I used George at Premo Electric to install two bathroom exhaust fans and stack switches in my upstairs restrooms. He showed up on time, was very friendly and courteous and was able to complete the work in a timely fashion. We will be using him again soon for a wiring project in my garage. Thanks George!"
---
"George had done work for my parents and they were absolutely pleased. He installed three fans and and outside electrical outlet. He was professional, courteous and on time. They would recommend him to anyone and they look forward to using him in the future."
---
"Premo Electric did an excellent lighting job in Poway for our small home. Good design and installation work, at a reasonable price. I would recommend him to others."
---
Recent Articles
San Diego Electrical Repairs: Why They're Not a DIY Project

DIY movement is rapidly growing, and it's easy to see why. DIY projects are satisfying, fun, and you'll see home improvements get done without having to pay for a contractor. But some projects should always be left to professionals. Your San Diego electrical repairs are important to you and your family, and they can feel...

Read More
San Diego Electrician Experiences with Handy Homeowners

Expert San Diego Electrician corrects many electrical fire & shock hazards created by unqualified home owners trying to do the work themselves. Be safe and hire a qualified San Diego Electrician. As a San Diego electrician customers are always calling me after something they were working on had gone bad, or they saw sparks fly...

Read More
If you are looking for a El Cajon Electrician then please call 619-908-1286 or complete our online request form.