San Diego New Construction Electrical Contractors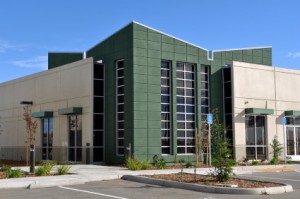 When you're constructing a new commercial or residential building, one of the most important concerns you have is finding a trustworthy and reliable electrical contractor for the job. Depending the type of building you're constructing, the electrical system will most likely be very complicated, and you'll probably need to get power to several different electrical fixtures. Plus, you'll need the electrical system to be completely dependable (you won't want to hire an electrician for repairs shortly after construction has finished), and you'll need a professional who can work within your time-frame and budget. Our San Diego new construction electricians will work directly with your main construction contractor and provide you with the most professional electrical services available.
Our San Diego New Construction Professionals
Each of our San Diego new construction electricians is licensed, professionally trained, extensively experienced, and background checked. So we can guarantee excellent workmanship at every single job we perform. We'll work promptly and professionally, making sure that everything is consistently on schedule, and that all of our electrical work is 100% thorough and accurate. We understand the importance of quality work when it comes to the electrical system of a new construction, so we'll always make sure that you're receiving the best there is.
Some of the specific commercial electrical services we provide include:
Electrical Distribution Systems
Emergency Power Systems and Generators
Fire Alarms and Emergency Stems
High Voltage Distribution
HVAC Control
GCFIs
Instrumentation and Control
Lighting and Dimming Systems
Lighting Protection System
Low Voltage Cabling: Voice, Data
Security and Surveillance
Telephone and Television Systems
UPS Systems
Our San Diego Commercial Electrical Services
At Premo Electric, we take pride in providing all of the electrical services you need for your San Diego new construction. Whether the project calls for installations, renovations, or repairs, we'll be looking forward to tackling the job. From our management down to our contractors, we have the most professional and reliable electricians in the area. So we're always able to not just meet, but exceed the expectations of our clients at every job. We have a strong commitment to both safety and quality, and that's what's helped us earn the reputation we have for completing complex, challenging projects on time and on budget.
If you have a commercial building that needs any repairs, we can tackle that job as well. Whether an apartment building needs to be rewired, or a restaurant needs an electrical safety inspection, we'll be able to tackle more quickly and more professionally than any other electrical contractors.
Recent Articles
What Causes a San Diego Circuit Breaker to Trip?

Going outside, to the garage, or down into the basement to mess with your tripped circuit breaker can start to become frustrating when it keeps happening again and again. So why does it keep happening? A San Diego circuit breaker "trips"–or shuts off the electrical flow—to keep the circuit from overheating and causing significant damage....

Read More
The Right Interior Lighting Options Matter

There's no better way to enhance the mood in your home than to play with some lighting options. Mood can be set to enhance mood from bright and lively to soft and romantic or even spooky and scary for fun party times. Lighting in our homes should be comforting, adjustable, functional, and should always enhance...

Read More
If you are looking for a San Diego New Construction Electrician then please call 619-908-1286 or complete our online request form.