Electrical Services in Pacific Beach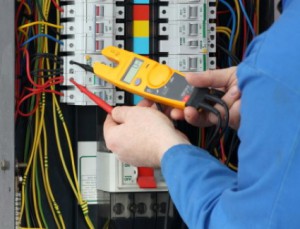 For more than 15 years, the San Diego Electrical professionals at Premo Electric have provide exceptional service and superior electrical products that are safe, dependable, and last. Regardless of what type of electrical work you need, we can provide you with a comprehensive line of all types of repairs, upgrades, inspections, and installations. Our skilled technicians are highly trained, efficient, and knowledgeable. You can feel confident that when you hire us for your next electrical project that we will do the job right the first time and provide affordable service that stays within your budget. We are your electrician specialists in Pacific Beach and the surrounding California area.
Electric Panel Repair by Premo Electric
Electric panel repair is a highly specialized and hazardous job that should only be performed by trained, experienced professionals. The panel is the area of your home where the most amount of electricity is present and can cause serious damage to your home or the people inside if not handled correctly. If you suspect that something is wrong with your panel, then call us today. We will promptly arrive at your home and accurately diagnose exactly what the issues are and repair them right away. We conduct all of our home and office repairs in a manner that is safe, efficient, and complies with state and local standards. For you and your home's safety, don't settle for less than the best when repairing electric panel.
Knob & Tube Wiring
One of the oldest surviving types of wiring is knob & tube wiring. It is not uncommon to find it in older homes and businesses around Pacific Beach. Although generally speaking this wiring is an outdated method that dates back to the 1880's, it surprisingly still holds up to modern wiring in terms of durability and energy-efficiency. This type of electrical system, however, requires the expertise of electricians who have been trained in this type of wiring. We have technicians that are trained specifically for knob & tube wiring repair, and replacement. We do suggest that sooner or late you consider replacing your old knob & tube wiring with a complete system upgrade. When the time comes that you are ready, then we are there for you to help you the entire process.
Electrical Safety Inspections
Inspections from Premo Electric not only insures that your home is safe and that your wiring is efficiently running at peak performance. It also makes sure that the electrical system in your Pacific Beach residential or commercial property meets city and county codes in this part of California. Therefore, we provide routine inspections as a courtesy to all our clients. Our inspections are thorough and help us identify any possible weakness or damaged areas of your wiring. Our service is quick and affordable. With an inspection from Premo Electric you can keep small issues from turning into major problems down the road. This saves you time and money.
,
Recent Articles
3 Common Questions About San Diego Landscape Lighting

You work hard, and you work all the time, to make sure that your yard and landscape look as good as possible. So why let that perfect landscape disappear every single night at sunset? San Diego landscape lighting can make sure that your yard and landscape doesn't disappear at night, and that they look even better....

Read More
Lighting and electrical safety

Sufficient lighting in your home isn't just for convenience sake but also to serve you when you need to see well when doing tasks like cutting up food or making repairs in your garage. Most homes that are standard built will have only one lightbulb fixture in the garage, and kitchens normally have an overhead...

Read More
If you are looking for a Professional Electrician you can trust, then please call 619-908-1286 or complete our online request form.