PALOMAR MOUNTAIN, CA PROFESSIONAL ELECTRICIAN SERVICES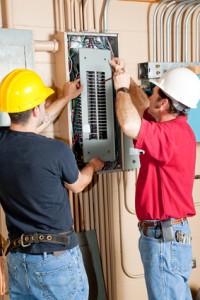 Palomar Mountain is a mountain ridge in the Peninsular Ranges in northern San Diego County. It is famous as the location of the Palomar Observatory and Hale Telescope, and known for the Palomar Mountain State Park.*
The area serves visitors and residents with incredible views, offering campgrounds for vacationers and many outdoor activities for the family.
The entire stretch along the west coast has seen much development over the years and plenty of new construction is still going on.
Residential Electrician Services in Palomar Mountain, CA
Whether the homes are old or new, they all utilize electrical power. The electrical needs of long ago are minute compared to today's energy demands. Most people utilize over two dozen electrical gadgets or appliances within a day's time.
Whether you have a residential or commercial property and need indoor or outdoor installation or repair, Premo Electric is ready to serve you with top notch electrical services.
We hope to build a relationship of trust with you. We are fully licensed, insured, and bonded so you don't have to worry.
Now, the electrical considerations such as alternate power sources, backup power systems, and entertainment systems are just a few to name of the more necessary electrical devices needed in the home.
Our San Diego Electrical Company believes in customer service as our number one priority. We excel beyond our competition because we are experienced and trained for any electrical systems need.
Electrical Repairs
GFCI Electrical Outlets
Residential or Commercial Lighting
Panel Upgrades & Repair
Ceiling Fan Repair
Home Electrical Upgrades and Improvements
Safety Wiring and Lighting Applications
Special Lighting
Energy Savings
Phone and Cable Installations
Exhaust Fan Installations
Electrical Inspections
Property Maintenance Electrical Services
Palomar Mountain Professional Electricians You Can Trust
Have you hired a Palomar Mountain electrician in the past but the experience left you wanting? If so, you may have serious doubts about hiring someone again.
When a contractor doesn't show up to work the entire project can be delayed and it will cost you money. Unfortunately, many homeowners are damaged by nonprofessionals that try to take advantage of them.
If you give us a call at at Premo Electric, we'll do everything we can to ensure your trust. We care a great deal about how our customers feel about us. Let us sit down and discuss your needs with you. Our team is standing by to help you with your home or business electrical needs.
*Sources: http://en.wikipedia.org/wiki/Palomar_Mountain
Recent Articles
San Diego Ceiling Fan Installer

San Diego, California is the perfect place to install a ceiling fan. It is located right on the edge of the ocean so those that live by the beach feel the cool ocean breeze in summer. For the rest of San Diego the temperatures caused by global warming may make the heat unbearable during the...

Read More
If you are looking for a Professional Electrician you can trust, then please call 619-908-1286 or complete our online request form.