Poway's Premier Electrician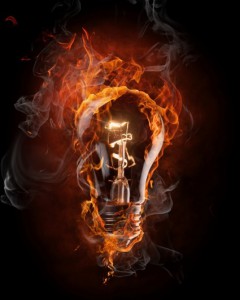 In one way or another, you depend on electricity for almost every task you perform on a daily basis. Whether it's at work or at home, electricity is responsible in part for most of what gets done. It's ingrained into our lives so much that it can be easy to take for granted and not notice at all. But when there are problems with an electrical system, everything grinds to a halt, and it can be difficult to notice anything else. Our Poway electricians understand how important electricity is to you and your life, so when you need electrical repairs, we'll be on the job as soon as possible. Premo Electric offers same-day services and 24/7 emergency services for any job that can't wait for an appointment. We know how important electrical repairs are, and we'll never force you to keep waiting.
Our San Diego electricians are all licensed, certified, and professionally trained and experienced, so we can always guarantee the best in professional service and workmanship. Whether you need a routine safety inspection, or a complete rewiring of your home, we'll be ready to handle the job. Our professionals have expansive expertise and experience working on all electrical systems and devices, so we can handle absolutely any job there is.
Give us a call today with any questions you might have, or to schedule your appointment.
Poway Electrical Contractor
You should always rely on a professional for any electrical repairs. Trying to handle any electrical problem on your own without professional training can lead to serious injuries, or even death. Even if you do get through the repairs without hurting yourself or someone else, there's a very good chance that something wasn't done properly and you now have a very dangerous hazard waiting for you in your home. According to the National Fire Protection Agency, faulty electrical wiring is the number one cause of house fires in the United States. So always make sure you hire a licensed and certified professional Poway electrician. We'll make sure that your electrical system is in the best condition and is as safe as possible.
Poway Wiring
Whether a new construction or addition needs completely new wiring, or if your home or other commercial building needs to rewired, or have a wiring inspection, our Poway electricians can give you the best work available. If your home is around twenty or thirty years old, or more, and hasn't been rewired in recent memory, there's a very good chance the wiring is not up to the standards of today's electrical needs. Today's homes are using more and more electricity, and leaving older wiring that can't keep up with it in your home can cause problems with your electricity, and it can be a serious hazard. Our Poway electricians can inspect your home's electrical system and wiring and determine whether you need completely new wiring and what you should do moving forward.
Recent Articles
3 Common Questions About San Diego Landscape Lighting

You work hard, and you work all the time, to make sure that your yard and landscape look as good as possible. So why let that perfect landscape disappear every single night at sunset? San Diego landscape lighting can make sure that your yard and landscape doesn't disappear at night, and that they look even better....

Read More
Is Knob and Tube Wiring Safe?

Knob and tube wiring was once a very popular form of electrical wiring, but it has since been recognized as a form of wiring that poses a risk to homeowners. If you have knob and tube wiring in your home, it's possible that all or part of your home's wiring will need to be replaced...

Read More
If you are looking for a Poway Electrician then please call 619-908-1286 or complete our online request form.