Electrical Repairs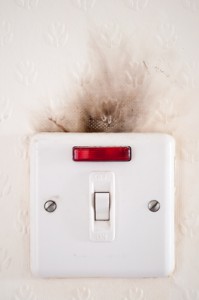 Your electrical system is one of the most important parts of your home, and it's also one that you definitely can't repair on your own. It's such a huge part of your every-day-life that it's easy to not notice it at all when it's working properly. But when there are problems with your electricity, you'll notice immediately, and you need repairs fast. That's why our technicians are available 24/7 to take your calls and requests for service.
Premo Electric offers 24/7 emergency services and same-day services. So when your life grinds to a halt because of electrical problems, our licensed, trained, and highly experienced professionals will get you back on track as soon as possible.
Give us a call today with any questions about our services, or schedule your appointment.
Your home's electrical panel is the core of your electrical system and your link to the outside electrical grid. This is where your fuses and breakers are found. The main electrical panel is the large grey box filled with switches, which you can most likely find in your basement or garage. Those switches are the breakers, and when they "trip," you'll need to switch them back to on, and you'll experience an electrical outage. If you're finding that your breakers are repeatedly tripping, you'll need to have your panel inspected to determine the best course of action. We can help you find exactly what the problem is, and get it repaired promptly and professionally.
Read Andrea M.'s review of Premo Electric on Yelp
Some older homes will still have screw-in style fuse panels. While these were completely fine when they were introduced, they simply can't handle the amount of electricity that a modern home uses. And even if you don't have such an old panel box, if you're noticing breakers constantly tripping, flickering lights in your home, or are only able to operate one or two appliances at a time, you most likely need to upgrade your panel. Old, out-dated, or incorrectly wired breakers, fuses, and panels in your home will mean that you'll have power outages at the most inconvenient times. But more than that, it can lead damaging smoke or a house fire. Our technicians can help you decide if it's time to upgrade your panel, and we can take care of the entire job.
Read Matthew J.'s review of Premo Electric on Yelp
Circuit breakers trip to protect your home when one of the following dangerous events occur: a circuit is overloaded, a circuit shorts, or there's a ground fault surge. Most of the time, they trip because they're overloaded to prevent overheating. This can often be helped by making sure you're not using several devices at one time in one power outlet. If it's a more serious reason, like a short circuit, it can be much more difficult to diagnose, and you may need professional help. If your fuses or breakers are causing problems, call our San Diego electrical repair technicians today, and we'll find and treat the problem as quickly and professionally as possible.
Read Alva M.'s review of Premo Electric on Yelp
Read Liz D.'s review of Premo Electric on Yelp
Electrical wiring mishaps, motor dysfunction, or split bearings are all common problems with ceiling fans. If the problems is more serious than dusty blades, your best course of action is to hire a professional electrical repair technician. Our contractors can handle any problems you may encounter with your ceiling fan.
Read Andrew R.'s review of Premo Electric on Yelp
Defective outlets, dead outlets, or outlets experiencing any other problems aren't just irritating. They can be a huge safety hazard, and they can be signs of other problems with your electrical system. If you have any problems with an electrical outlet, call us right away for help with your outlet repairs. We'll help you determine the best way to move forward, and we'll make sure the problem is solved safely.
Read Cabrie F.'s review of Premo Electric on Yelp
Skip the extension cords and the unnecessary walking around the house. Premo Elecric will get your outlets where they belong.
Whether you just have an irritating light that won't quit flickering, or you need more serious and involved lighting repairs, our technicians can help. Lights are one of the most important parts of a modern home, and we can make sure that yours are functioning properly and working efficiently at all times. We can also help with several other lighting services, including outdoor lighting, and energy efficient lighting options.
Read A L.'s review of Premo Electric on Yelp
Whether you need to put in, have repaired, or have moved a light switch, we can make your lighting as convenient as it will be attractive.
Your home must have proper grounding. Premo Electric can get your wiring grounded quickly and safely.
Major outages can knock out your electrical system. Premo Electric can assess and repair what you need to resume daily life.
To get help from the top-rated electricians in San Diego, call 619-908-1286 or complete our online request form.
Read Savanna S.'s review of Premo Electric on Yelp