The Right Interior Lighting Options Matter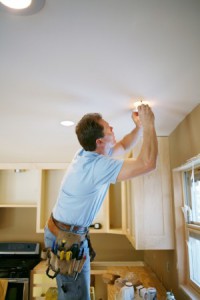 There's no better way to enhance the mood in your home than to play with some lighting options. Mood can be set to enhance mood from bright and lively to soft and romantic or even spooky and scary for fun party times. Lighting in our homes should be comforting, adjustable, functional, and should always enhance our visual surroundings in every way.
Lighting isn't always about the light itself either. A big part of the choices we make in our interior and exterior lighting involves the style, color, and textures of the lighting receptacles that we call fixtures. The base parts of the light are crafted in different styles and types so we can be decorative in our lighting options.
Types of Lighting Fixture Options For Your Interior
You can have any number of lighting choices for your home including but not limited to:
Recessed Lighting
Hanging Lighting
Rope Lighting
Track Lighting
Lamp Lighting
Floor Lighting
Chandelier Lighting
Ceiling Fan Lighting
Under Cabinet Lighting
Low Watt Lighting for Night Lighting
Tube Lighting
Crystal Lighting
Cabinet or Display Lighting
Spot Lighting
The type and style of lighting fixtures you choose will likely determine how great of a strength of light you're supplying the areas covered by the particular fixture you have installed. For example, a good track light system can light up many areas of a room. They can be adjusted to hit all four walls or mixed around to hit any areas you want.
On the other hand, the recessed lighting has a fixed area of coverage, but still offers you much light coverage. Smaller low lights would be your lamp lighting, spot lighting, and night lighting that are used to low light or high light areas you want to draw attention to.
Most homes have many different light types involved in the home and so can yours. If you have a standard built home, you're probably stuck with very few lights that don't do a lot for you either in function or design. The good news is that with the right plan, you can make a completely different look and feel for your home with additional lighting!
Sufficient Home Lighting Is Important
Light is so important in our lives. We need to be able to see well inside our homes, and light coming through windows from the day just isn't enough when you're needing good enough light to stay safe by. Supplementing your lighting is easy when you have a professional San Diego electrician who's experienced in home lighting options.
Your chosen professional electrician can help you pick and choose just the right options for the areas you want to illuminate. They'll have great ideas, be knowledgable about all the modern lighting options and designs, and understand all the technical lingo that comes with buying light bulbs today.
"Smart" Home Lighting Options
You'll have options to automate your lighting controls too. Wouldn't it be great to be able to shut off all your home's lights with your smartphone even if you're thousands of miles away? Contact the San Diego Electrician professionals at Premo Electric any time you want the best in lighting in the San Diego areas.
If you are looking for a San Diego Electrician then please call 619-908-1286 or complete our online request form.