Ground Fault Circuit Interrupters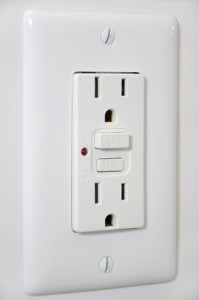 The outlets that are installed in most homes are called ground-fault circuit interrupters, or GFCI's. They're there to prevent people from being shocked or electrocuted. In the United States, if you look at a normal 120-volt outlet, there are two vertical slots, and one round one beneath them. The slot on the left is slightly larger than the one on the right. The left slot is the "neutral," and the right slot is called "hot." The hole beneath them is the "ground." If an appliance is working properly, the electricity it requires will flow from hot to neutral. A ground fault circuit interrupter monitors the amount of energy that is going from hot to neutral and looks out for any imbalances. When it finds an imbalance, it trips the circuit. It can sense an imbalance as small as 4 or 5 milliamps, and it will react as quickly as one-thirtieth of a second later.
Ground Fault Circuit Interrupters and Safety
GCFI's are incredibly useful for outdoor projects. If you're working outside with an electric powered tool and it's raining, you could experience some problems. You're standing on the ground, and because the tool is wet, there's a clear path from the hot wire inside, through the tool's power cord, and up to you. If this occurred, it cause serious damage to your power tool, but it could also be fatal to you. But if this began to happen, the ground fault circuit interrupter would be able to sense that some of the electric current was flowing through you, and not directly from hot to neutral. As soon as it senses that, it cuts the power.
Ground Fault Circuit Interrupter Installation and Testing
Because it prevents you from being seriously injured, it's important that you have ground fault circuit interrupter outlets installed in your home, and that they're regularly maintained. Our electricians can make sure that GFCI's are installed throughout your home, so that you're never at risk of electrocution or damage to your appliances. We can also test your GFCI's to be sure they're in proper working condition.
If there's one thing in your home you don't want to unexpectedly go haywire, it's your electricity. Premo Electric knows how important your electrical system is to you and your home, and we know how dangerous it can be. So we'll always make sure you receive the best in quality workmanship and electrical repairs. Aside from installing and maintaining your ground fault circuit interrupters, we can also perform a safety inspection for your whole home's electrical system.
Recent Articles
San Diego Electrician Experiences with Handy Homeowners

Expert San Diego Electrician corrects many electrical fire & shock hazards created by unqualified home owners trying to do the work themselves. Be safe and hire a qualified San Diego Electrician. As a San Diego electrician customers are always calling me after something they were working on had gone bad, or they saw sparks fly...

Read More
Is Knob and Tube Wiring Safe?

Knob and tube wiring was once a very popular form of electrical wiring, but it has since been recognized as a form of wiring that poses a risk to homeowners. If you have knob and tube wiring in your home, it's possible that all or part of your home's wiring will need to be replaced...

Read More
Read Freddie D.'s review of Premo Electric on Yelp
Read Fred E.'s review of Premo Electric on Yelp