Lighting Solutions and Electrical Services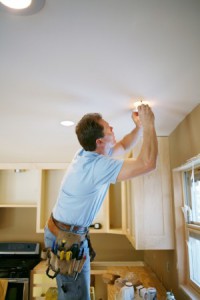 Whether it's interior or exterior, cosmetic or totally utilitarian, your lighting is extremely important to your home and your family. Landscape lighting can transform your home's exterior appearance, and security lighting can keep your home safer. Interior lighting can change the look, feel, and mood of any room, and it serves the much more obvious purpose of keeping your home home lit when natural light isn't available. Our lighting solutions can make sure that all of the lighting in your home is installed perfectly, completely functional, and beautifully designed.
LED stands for "light emitting diode," which is just another of saying that a computer chip semiconductor diode is what is emitting the light. LED lighting has several different uses in both residential and commercial settings. They can help save energy, they'll last longer than ordinary bulbs, and you can use dimmers with them to create any sort of atmosphere you like.
Landscape Lighting
Outdoor lighting is one of the best things you can do for your home's appearance. A professional outdoor lighting scheme will also raise the resale value of your home. Our electricians can provide you with a professional, stunning outdoor lighting design and a quality installation.
It is possible to complete a landscape lighting job on your own. But you'll be installing small lights with self-contained, limited power sources. You can set these up in an hour or two on your own. But for a professional outdoor lighting job, you'll need a professional lighting specialist.
We can provide you a masterfully designed landscape lighting scheme that is professionally installed. Each fixture will be connected to a central power source that you'll have control of from your home.
Security Lighting
Keeping your home secure is important to you, and at Premo Electric, we understand that. Our lighting specialists can take special care to provide your home security lighting that will create a safer environment for your home. Our technicians will visit your home and help you design a lighting plan tailored to the specific needs of your property. We'll install lights on the sides of your home, underneath your eaves, or on specially placed poles depending on the necessary level of lighting. We'll illuminate only the parts of your home that we intend to, so that the lighting doesn't cause limited visibility for motorists or light trespasses. Timers, photo cells, and motion detectors can automatically turn lights on and off to help preserve energy. We can also use energy efficient bulbs.
Lighting Installation
Our lighting specialists can give your home a beautiful new lighting design. Whether you're looking for recessed lights, ceiling lights, pendant lights, or anything other specialty interior lighting, we can tackle the job. We'll make sure the new design is an integral part of your home, complementing and enhancing your existing design and décor. We can also provide interior lighting services for new constructions or additions, or we can repair any problems with existing interior lighting.
Low Voltage Lighting
Lighting accounts for around 10-15% of your entire energy costs. So if you're able to cut back on lighting, you can see huge drops in the amount you pay for electricity each month. Our San Diego lighting experts can give you low-voltage, energy conserving lighting fixtures that will save you money, be better for the environment, and allow bulbs to last a much longer time.
Pool Lighting
Whether you're hosting an event or just spending an evening with the family, pool lighting can upgrade the experience of any summer night. We will provide you with pool lighting that upgrades the appearance of the entire area. You'll get even more enjoyment from your pool than you ever imagined you could.
Recent Articles
San Diego Ceiling Fan Installer

San Diego, California is the perfect place to install a ceiling fan. It is located right on the edge of the ocean so those that live by the beach feel the cool ocean breeze in summer. For the rest of San Diego the temperatures caused by global warming may make the heat unbearable during the...

Read More
San Diego Electrician Experiences with Handy Homeowners

Expert San Diego Electrician corrects many electrical fire & shock hazards created by unqualified home owners trying to do the work themselves. Be safe and hire a qualified San Diego Electrician. As a San Diego electrician customers are always calling me after something they were working on had gone bad, or they saw sparks fly...

Read More

Read Murat H.'s review of Premo Electric on Yelp