Vista Electricians Providing Commercial and Residential Electrical Services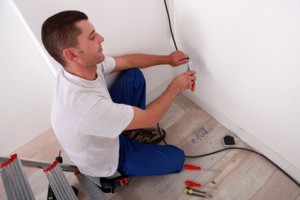 Premo Electric has proudly provided the highest quality electrical services to Vista area residents and commercial property owners since 2005. We are adept at all manners of electrical projects including installations, repairs, and maintenance. In every project we undertake, our main objective is to ensure that our customers are completely satisfied with the results of our efforts.
Call our San Diego Electricians today if you need to hire a professionally licensed electrician in Vista. Our polite and knowledgeable staff would be happy to help you with any and all of your electrical needs. Our experts can answer any questions that you may have about your electrical system, a prospective project, or our full line of high quality electrical services. Our team would be more than excited to schedule your appointment today.
Electrical Repairs Conducted by Expert Electricians in Vista
When there is a problem with your electrical system, it is vitally important that you hire a professionally licensed electrician for help. Conducting electrical repairs yourself can be extremely dangerous. At Premo Electric, our Vista electricians are here to help you with all of your electrical repair needs. Our team can assist you with both minor and major electrical repairs. After our electrical repair services, you and your family will be able to enjoy every aspect of your electrical system once again.
Electrical Lighting Installations in Vista
At Premo Electric, we believe that Vista property owners should take the time to custom design their electrical systems to the unique ways in which they use their properties. One great way to improve your enjoyment and use of your property is to design and install new lighting.
Our Vista electricians can help you with any lighting installation project both inside and outside of your home. Landscape lighting is a great way to beautify your home or business at all hours of the evening. Our electricians can also improve the safety that you enjoy on your property through security lighting installations.
Electrical Remodeling and Construction Services in Vista
When you decide to remodel your Vista property, you should consult with a professionally licensed electrician. In order to make the most of your property improvement project, you should take the time to custom design your Vista electrical system to your family's unique needs. With the help of our professional electricians, you can make impactful changes that will increase your enjoyment of your Vista home. Our electrical contractors can assist you with any electrical remodeling or new construction project.
If you need to hire a professionally licensed electrician in Vista, call Premo Electric today at 619-908-1286, or fill out our online request form.